Maritime Logistics Professional Magazine Advertising
Sales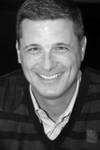 Rob Howard
,
Vice President of Sales and Marketing
Rob started with Maritime in late 1998 as advertising sales manager for Maritime Reporter and Engineering News & Marine News Magazine and grew with the company into his current position of the past 8 years as Vice President developing and managing the sales and marketing team for the world's leading B2B media group covering the international maritime, shipbuilding and underwater technology markets.
Phone:
+1 561 732-4368
Fax:
+1 561 732-6984
Email:
howard@marinelink.com

Jean Vertucci
,
Advertising Sales Manager
Jean began her successful Advertising Sales Management career at the Maritime Reporter & Engineering News back in 1995 and was a key player in the launch and growth of one of the company's main titles- Marine News Magazine. She holds a Bachelors degree in Public Relations and a Master's degree in Communications from the New York Institute of Technology. Her extensive sales career has included the launch of many commercial industry titles, conferences, and trade shows for the marine and chemical markets. Currently, Jean sells for Maritime Reporter, Marine News and Maritime Professional in print and digital media.
Phone:
(212) 477-6700
Fax:
(212) 254-6271
Email:
vertucci@marinelink.com
Planned issues
Planned date: Nov/Dec 2019
Short Sea Shipping Ports
Product: Ballast Water Treatment Systems
---