SNAME-Hampton Roads Hears Paper On Fuel Savings In Cargo Heating Systems
The Hampton Roads Section of The Society of Naval Architects and Marine Engineers recently held its first meeting of the 1981- 82 season at Fisherman's Wharf in Hampton, Va.
This dinner/technical meeting, attended by 88 members and guests, featured a technical p£.- per, "Reducing Fuel Consumption for Liquid Cargo Heating Systems," by George E. Ponton.
Mr. Ponton is the Virginia Beach office manager of Advanced Marine Enterprises, Inc. He is currently participating in the design of structural, piping, ventilation, and electrical systems for various shipyards.
Mr. Ponton's paper presents the results of an analysis to determine potential savings in heating systems for number 6 fuel oil cargoes. Cargo vessels carrying heavy liquid petroleum products such as number 6 fuel oil or asphalt, traditionally have an extensive heating system. This system consists of thousands of feet of 11 •_>- and 2-inch pipe arranged in the bottom of the cargo tanks through which a heat transfer fluid is passed.
A heater, fuel fired usually with diesel oil, is used to raise the temperature of the heating fluid that is forced through the coils. This maintains the cargo at a temperature suitable for off-loading by centrifugal cargo pumps. With the cost of fuel spiraling, an approach that would reduce fuel consumption should be attractive to the owner/operator of such a vessel. Since positive displacement pumps can handle much more viscous fluids than c e n t r i f u g al pumps, they were studied for offloading, instead of using traditional vertical deep well mixed flow pumps.
The analysis of various petroleum cargo vessels indicated that a significant reduction in fuel consumption could be realized with the new cargo pump type by reducing the size of the heaters.
A d d i t i o n a l l y , the quantity of heating coils could be reduced, which would result in decreased construction and operating costs if incorporated into vessel design.
Following the presentation of the paper, it was commented on by Jay Ancarrow of Newport News Shipbuilding, W.D. Burton Jr. of Newport News Shipbuilding, Charles Hornbostel of Transamerica Delaval Inc., and Horace Steven of Naval Sea Systems Command in Portsmouth. All were in agreement that Mr. Ponton's paper would be a valuable aid in new design to reduce cost of heating systems for fuel oil cargoes of this type.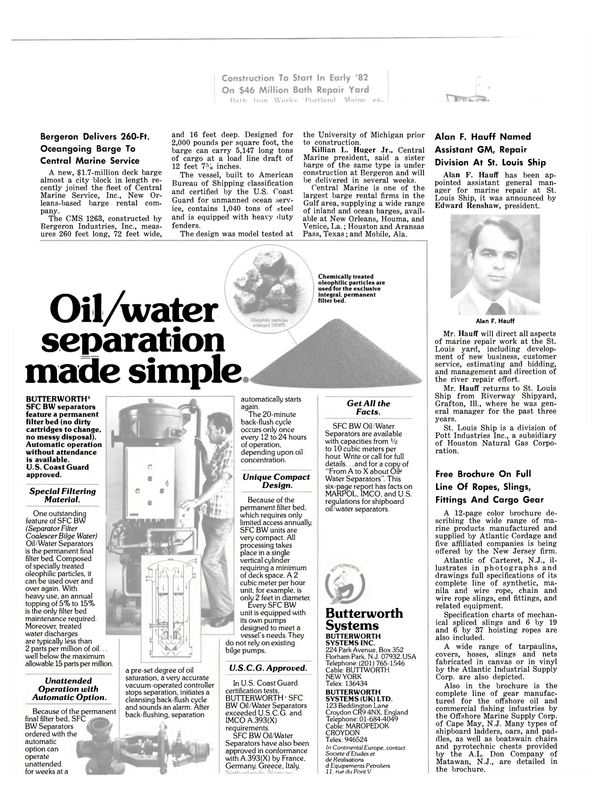 Read SNAME-Hampton Roads Hears Paper On Fuel Savings In Cargo Heating Systems in Pdf, Flash or Html5 edition of December 1981 Maritime Reporter
Other stories from December 1981 issue
Content