$29.4-BILLION FY89 NAVY BUDGET APPROVED FOR SHIPS AND EQUIPMENT
By James R. McCaul, President International Maritime Associates, Inc.
STATUS REPORT ON U.S. NAVY PROGRAMS FOR SHIP PROCUREMENT AND MAINTENANCE Construction and maintenance of the U.S. Navy ships continues to be the dominant source of business for shipyards in the United States. It is also a major source of business for marine equipment and electronics systems manufacturers. This article provides an update on the status of the U.S. Navy programs.
FY 1989 Budget Congress appropriated $282 billion for defense spending in FY 1989. This figure is an increase of $3 Photo: City of Portland. Maine, fireboat provides a water salute as the U.S. Navy guided missile frigate USS Samuel B. Roberts (FFG- 58) is towed toward a berth at Bath Iron Works Overhaul & Repair Yard. The ship, damaged when it struck a mine in the Persian Gulf earlier this year, is expected to be tied up for 12 to 14 months. BIW photo by Deb Huston.
billion over FY 1988 and $1 billion less than the President's request last February. Separate legislation was passed to authorize military programs. This is the first time in several years that the defense budget has been approved prior to beginning the new fiscal year.
The Navy represents 33 percent of the total defense budget for FY 1989. This compares with 36 percent in FY 1988—when full funding for two carriers was provided.
Ship and Equipment Procurement Budget Totals $29.4 Billion The FY 1989 budget provides funding for four submarines, five Aegis destroyers, one amphibious assault ship, two minehunters, 12 support ships and 15 air cushion landing craft. Funding totaling $9.1 billion is provided for these acquisitions.
Major beneficiaries of this spending will be Newport News (submarines), GD-Electric Boat (submarines), Litton-Ingalls and Bath Iron Works (Aegis destroyers), Avondale (support ships and air cushion craft), Textron Marine (air cushion craft) and McDermott (minehunters).
More than $6.1 billion has been appropriated for procurement of weapon systems. This provides funding for 66 Trident 11 missiles, 510 Tomahawk missiles, 320 MK48 ADCAP torpedoes and 140 MK50 advanced lightweight torpedoes.
Major beneficiaries of this funding are Lockheed (Trident II missile), General Dynamics and McDonnell Douglas (Tomahawk missile), Hughes and Westinghouse (MK48 ADCAP torpedo).
A total of $4.8 billion has been approved for procurement of ship support and other support equipment.
Much of this equipment is earmarked for the fleet modernization program. A major beneficiary is General Electric (sonar upgrades).
Citing slippage in ship overhaul schedules, Congress cut $200 million from the budget request for equipment and systems earmarked for fleet modernization. Because of maintenance slippage attributable to shortage of O&M funds, equipment has been arriving at a faster rate than the pace of installation.
Parts inventory has grown as a result.
This cut is intended to bring inventory down to a more reasonable level.
The research and development budget is set at $9.4 billion. Among the major programs are the new submarine combat system, various antisubmarine warfare systems and the new SeaLance missile.
Quanities for ships and major weapon systems funded in FY 1989 are shown in Exhibits 1. and 2.
Ship Maintenance And Repair Congress added $240 million to the Navy's budget request for ship modernization and maintenance.
These additional funds are to be used for installing the VLS system in two Spruance destroyers and performing New Threat Upgrade overhauls on surface combatants during this year.
An additional $97 million was added to the budget to repair the frigate Samuel Roberts. This work is to be performed by Bath Iron Works.
FY 1988 Contracting Results IMA maintains a database of contract awards by the Navy and other DoD agencies. It contains all contracts exceeding $3 million issued by any contracting office in the Navy since 1984. Exhibit 3 is developed from this database—and shows the top 100 contractors to the Navy during the preceding fiscal year.
Major winners were Newport News (two aircraft carriers, submarines), General Dynamics (submarines, ATA aircraft, missiles), McDonnell Douglas (F-18 and ATA aircraft, missiles), General Electric (electronics, nuclear plants), Grumman (F-14, A-6 and E-2C aircraft), Litton (Aegis and LHD ships, electronics), Lockheed (Trident II missiles), Raytheon (electronics, missiles) and Hughes (torpedoes, missiles).
Long Term Outlook The Navy views a shipbuilding program of about $11 billion per year as necessary to maintain the current force structure. This figure would support a building rate of 18 to 20 ships per year.
Fleet growth resulting from the recent build-up will generate on increasing flow of ship and ship systems maintenance and repair.
Spending for this activity—including purchase of equipment and its installation—is projected to be an additional $10 billion annually.
Weapons procurement by the Navy will likely continue at a $6 billion to $6-1/2 billion level over the foreseeable future. Research and development will probably remain around $9 billion to $9-1/2 billion annually.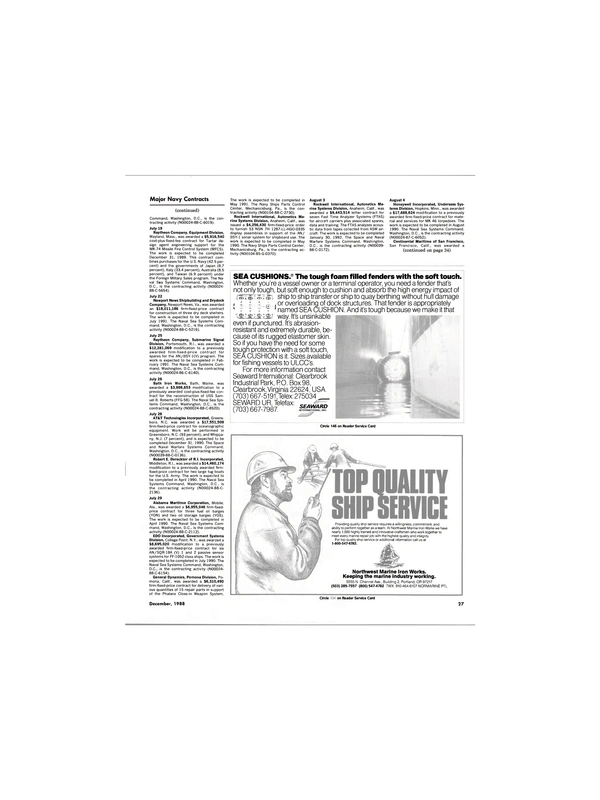 Read $29.4-BILLION FY89 NAVY BUDGET APPROVED FOR SHIPS AND EQUIPMENT in Pdf, Flash or Html5 edition of December 1988 Maritime Reporter
Other stories from December 1988 issue
Content