HMS Marine Hardware Offers Smoke-Gard Curtains For Shipboard Smoke Containment Uses
Free Literature Available Fire aboard ship is a major emergency, no matter how small the fire.
On a very small ship the crew can usually escape overboard should the fire get out of control.
On a large ship, however, the situation is far more serious and difficult.
Passengers and crew may find it difficult, if not impossible to find their way out visually through the maze of smoke-filled passageways and deck levels. The fire-smoke can quickly render sight useless by toxic and particle irritants. Additionally, a firefighting team must quickly find their way to the source of the fire through these same passages.
With this knowledge, it seems obvious that a primary responsibility for any ship would be the immediate or near immediate containment of fire-smoke to the area or compartment of the fire outbreak.
The use of smoke curtains can provide that containment. Smoke containment curtains can also reduce the time necessary for the fire team to get to the emergency area by providing improved visibility in the passageways. Smoke curtains also allow the fire team to enter the emergency area, dragging hoses, etc., without having an open doorway for the smoke to rush out of, as the curtain will continue to contain the smoke.
With the benefit of modern technology, smoke containment curtains are now available made form lightweight, fully fire-rated aramid fiber cloth (similar to that used in race driver suits and military pilot flight suits).
Smoke-Gard curtains manufactured by HMS Marine Hardware, Inc., Valley Stream, N.Y., which weigh only 3-1/2 pounds each, are mounted above doorways which are considered potential smoke-path hazards, such as machinery spaces, galley areas, berthing areas, etc.
Smoke-Gard curtains are installed with screw fasteners or optional clip-mounting system which allows the Smoke-Gard curtains to be relocated from doorway to doorway, thereby having one curtain available to service a multiple of doorways in a given area of the ship. This is mostly applicable to large ships.
Smoke-Gard curtains deploy with a single downward pull of the sto- wage sleeve. The curtain fully deploys within two seconds, and the curtain self-adheres to the adjoining bulkhead with fire-rated velcro fasteners or magnets, but they easily separate for fire team passage. The Smoke-Gard curtain is brightly bicolored of blue/international orange to assist the fire team in locating the exit in limited visibility.
After use (and cleaning), the curtain is easily re-rolled back into its overhead stowage/deployment sleeve, ready for redeployment if needed.
The use of smoke containment curtains aboard ship is not new. The Royal Navy has been using smokecontainment curtains for more than 20 years. The Royal Navy's recent experience in the Falkland Islands Campaign strongly reaffirmed the value of smoke curtains in fire emergencies.
In view of the Falklands experience, and the USS Stark experience, the U.S. Navy has become interested in smoke curtains. A recent Naval Sea Systems report states that actual fire-testing aboard the USCG test ship USS Watts showed smoke curtains to be "effective in curtailing the spread of smoke, toxic gases, and heat." For free literature fully detailing Smoke-Gard curtains from HMS Marine Hardware, Circle 43 on Reader Service Card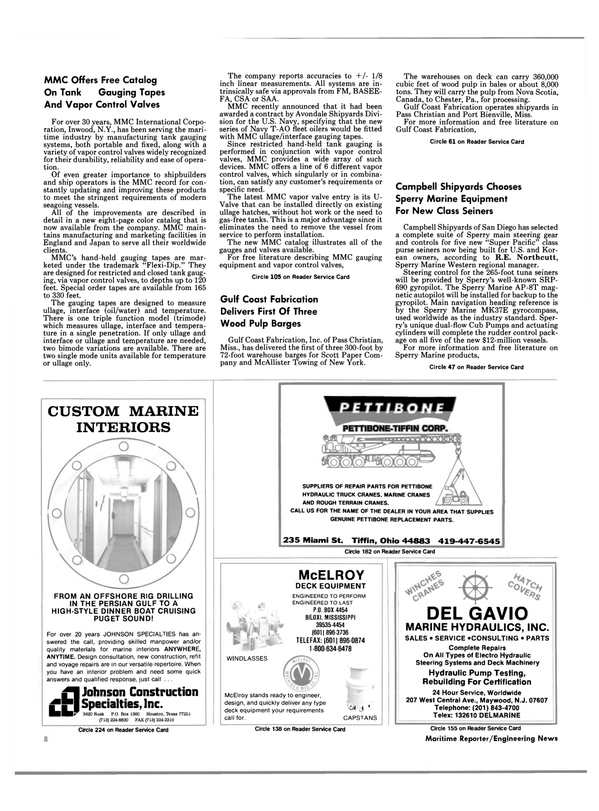 Read HMS Marine Hardware Offers Smoke-Gard Curtains For Shipboard Smoke Containment Uses in Pdf, Flash or Html5 edition of February 1989 Maritime Reporter
Other stories from February 1989 issue
Content