Offshore Innovation: A Real 'Riverboat'
By William Stoichevski
Central Asia is a booming oil region not far from the Persian Gulf. Energy companies ply the big lake to rack up staggering barrel counts at elephantine oilfields with names like Tengiz (Kazakhstan) or Kashagan (Azerbaijan). Painstaking, oil-fueled nation-building is underway across an oil province, where very shallow water hinders plant and equipment moves by platform supply vessels. Until now — new module-carrying vessels, or MCVs will float high-capital cargoes through Russia's river system and across the Caspian shallows to Chevron's Tengiz Extension project.
Vard Holdings' Romanian and Vietnamese shipyards have received orders in 2016 to build 20 MCVs: 17 for ship operator Topaz Energy & Marine and three for Kazakhstan's Kazmorttransflot, or KMTF. The orders came quickly — in May (15), August (three) and September (two). Of the first 15, five are being built at Braila and four at Tulcea, both in Romania, and six went at Vard's Vung Tau Vietnam shipyard. The three vessels for KMTF, also Romanian builds, will be wider, for the Caspian's shallows. Acting as project manager, Blue Water Shipping leads the two consortia that'll own and operate the MCVs: with KMTF and with Topaz.

The 17 Vard 9 21 designs for Topaz are designed to transport modules through the Russian waterway of canals, rivers and lakes stretching from the Baltic Sea in the north to oilfields in Kazakhstan in the south. Tengizchevroil, or TCO, is the oilfield joint venture of Chevron, ExxonMobil and local partners in need of the logistics Blue Water will arrange. The MCVs — which look like stretched PSVs — will carry pre-fabricated modules to the oil and gas installations of Western Kazakhstan. Some of this process plant is being built in the Far East for transport to the Russian Far North and then through the inland waterway to the Caspian depot of Prorvo at the Tengiz oilfield.
World-wide First
"No suitable vessels for the jobs exist world-wide," says Vard Holdings executive vice president, Holger Dilling. "Needless to say, the white boxes on all our renderings are just placeholders, not big containers. But they do show the dimensions of the potential payloads, which can weigh up to 1,800 tons per unit." Dilling, who also heads Vard's investor relations, confirms Topaz asked Vard in September to design and build two more of the 123 x 16.5 meter MSVs ($40 million for two) MCVs. They'll be identical to the 15 ordered earlier in the year by the Dubai-based Gulf of Mexico player. Before these orders, Topaz controlled a fleet of 100 offshore support vessels — including 34 OSVs in Kazakhstan. The company already earns 60 percent of its revenue in the Caspian, where its market share is about 50 percent. "Due to the high physical barriers to entry in the Caspian for (regular OSVs), the market is dominated by long-term contracts," the company says. Rivals, too, know it's "difficult and costly to mobilize equipment to the region."
Vessels can only make their way to the Caspian from the north via the Volga-Baltic waterway or, from the Black Sea, via the rivers Don and Volga. Making things harder, the waterway generally freezes and closes from November to March.
Caspian Hurdles
Topaz says the purpose-built MCVs are "shallow-draft deck carrier vessels with low air draft and a high-capacity ballast system". They are diesel-electric, DP2 with "excellent maneuvering" and equipment from "leading western suppliers."
Topaz tips another reason for owning and operating MCVs: "costly, technically challenging and time-consuming modifications may (otherwise) be required to allow vessels to pass," and vessels modified or flagged in any state other than Russia must be towed (to use the Russian waterway), and that incurs "significant costs, depending on the route and availability of towage vessels."
So, at least one of the two consortia headed by Blue Water — the Topaz consortium — seems to be flagged in Russia, with the three wider MCVs to ply the Caspian only. Topaz also cautions that customs and government agency "inspections, authorizations and approvals" require pricy fees. "These restrictions represent high barriers to entry and have led to the OSV market in the Caspian region becoming highly concentrated with only nine OSV suppliers" in this, the world's largest lake at 1,000 miles long. Another obstacle to this market, for some, is the rigid local application of MARPOL 73/78 banning the discharge of garbage, sewage or oily water.
Growth by Design
Between third-quarter 2017 and the first half of 2018, Vard will deliver to Topaz its first order of 15 MCVs. It is understood that first steel has been cut for all 17 Topaz vessels and that keel-laying has been prepared for "several". The three KMTF vessels — VARD 9 28's — are due for delivery in the first three months of 2018.
"None have been built to this design or specification before," says Dilling, a nod to Vard's ability to turnaround novel designs for mid-sized vessels in short order. The orders bear testimony to the firm's new-found designer clout and owner Fincantieri's increasing faith in its Romanian yards building complete complex vessels. Vard has quietly transformed from what Dilling calls "the doom and gloom of (11) months ago" to "a brighter future". Growing its design team by 30 percent this summer has helped. "We've been able to reposition the company rather quickly," Dilling says, adding that of the 44 vessels Vard is building, 40 are VARD designs. In all, the shipbuilder has sold 175 designs, 30 outside the Group.
Vard's VP of conceptual design, Kjell Morten Urke, confirms Canadian, Croatians and French naval architects and design engineers have been brought in in response to the increased demand and to maintain a real popularity lead the Vard group seems to be enjoying. Unusually, perhaps, Urke and his colleagues don't group themselves for work by individual order or vessel type but are smartly divided as specialists working on company-wide projects: electrical, conceptual, hydrological rather than OSV, Cruise, naval and MCV. "(In that way), we're more turnkey than ever and more one-stop shop for our customers."
"In Europe, technological leadership is the only way to succeed," adds Dilling, a nod not only to Urke and his design work but to the fast-upgrading Romanian yards where pipe-fitting and automation have been introduced. More work is being channeled down from owner Fincantieri, now that the Romania operation is no longer as labor-intensive.
Country-sized
Good design means speedy vessel turnover will be possible, just as oilfield partners ramp up the Tengiz Expansion Project and other area players — Kazakh, Russian, Turkman and Iranian — crank their own poverty-killing projects.
Just as field partners declared the "future growth and wellhead pressure management project" would boost flows by 260,000 barrels of oil equivalent per day, Chevron was citing "lowered costs for goods and services" as the nod was given for the world's first MCVs. This Tengiz "modification" is really a field project that'll cost $36.8 billion: $27.1 billion for the facilities (to be brought in by the MCVs); $3.5 billion for wells and $6.2 billion for "contingency and escalation". They'll build 180 modules, a source close to the consortium says, and they'll need to be moved by sea via hubs in Bulgaria, Finland (and for the three wider vessels) Kazakhstan to a newly built Kazakh port at Prorva for assembly. "TCO (which is building and dredging the port) expects the transport of the modules to take at least three years commencing from April 2018," the source says.
While shipping costs could reside in any one of those sums, partners clearly see the payback: the project will hike TCO's oil production to 1 MM boe/d, or about half of Norway's total production. First oil is planned for 2022, but Topaz client Chevron is also developing the nearby Korolev and Karachaganak fields and controls the Caspian Pipeline Consortium with its 935-mile crude oil export line from Tengiz to tanker-loading at Novorossisk. Conceivably, these MCVs might have future pipes to freight.
Blue Water
Topaz says its 15-vessel contract win with Blue Water will earn $500 million, so there's money in MCVs. Now, the Mississippi River leads from the shipyards of Louisiana to the Gulf of Mexico's oilfields, and the Xizang River flows south to the South China Sea's.
The helpful spillover from Vard's Russian riverboats may have no end: for KMTF, diversification away from tankers; for Vard a reversal away from troubled Brazil ventures and a 2015 market shock.
Building MCVs has given Vard new legs, and more orders have come in this year than in the past two years combined. "We'll bring the company back to previous values within three years, that's our expectation," says Dilling.
For Blue Water, the MCVs mark another major logistical undertaking and potential future business. "We'll act as project managers," confirms global managing director for oil and gas, Dan Nissen, in an email. "Our role is to deliver a full logistics solutions to TCO."
Topaz confirms the MCV's could create a whole new business for the company in river transport.
"It's our conviction that the MCVs will be competitive assets in any river system," a spokesman tells us. "Topaz sees great potential in these vessels replacing the traditional tug and barge solution for river transportation.
The MCVs will be a higher quality option that is cost effective, fuel efficient and much safer."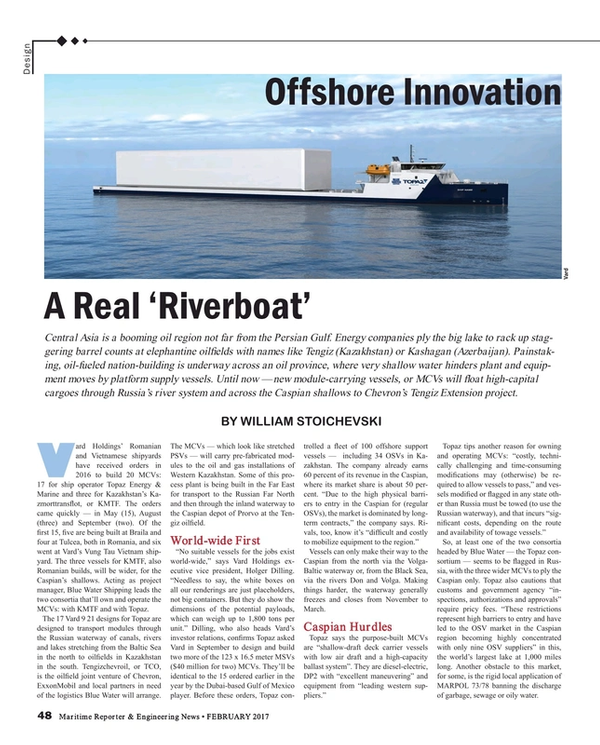 Read Offshore Innovation: A Real 'Riverboat' in Pdf, Flash or Html5 edition of February 2017 Maritime Reporter
Other stories from February 2017 issue
Content